SILVER MOUNTAIN DISCOVERS NEW HIGH GRADE COPPER VEIN AND HITS IMPRESSIVE PRECIOUS METAL GRADES AT ITS RELIQUIAS MINE, PERU
NOT FOR DISTRIBUTION TO U.S. NEWSWIRE SERVICES OR DISSEMINATION IN OR INTO THE UNITED STATES
Key Highlights – Initial drilling on the Natividad Vein and mineral resource expansion drilling at Sacasipuedes vein system
Drill Hole SMR135-23-SCS (newly identified Natividad, or "NAT" vein)
1.55 m @ 81 g/t Ag, 2.51% Pb, 4.57% Zn, 1.80% Cu and 0.25 g/t Au, including
1.00 m @ 106 g/t Ag, 3.37% Pb, 5.84% Zn, 2.56% Cu and 0.09 g/t Au
Drill Hole SMR140-23-SCS (NAT vein)
2.20 m @ 42 g/t Ag, 2.79% Pb, 3.84% Zn, 0.75% Cu and 0.06 g/t Au, including
1.00 m @ 62 g/t Ag, 5.40% Pb, 4.70% Zn, 0.98% Cu and 0.06 g/t Au
Drill Hole SMR140-23-SCS (mineralized breccia)
0.60 m @ 1,319.55 g/t Ag, 0.86% Pb, 2.82% Zn, 0.03% Cu and 6.19 g/t Au, including
0.30 m @ 2,623.00 g/t Ag, 1.68% Pb, 5.60% Zn, 0.06% Cu and 12.20 g/t Au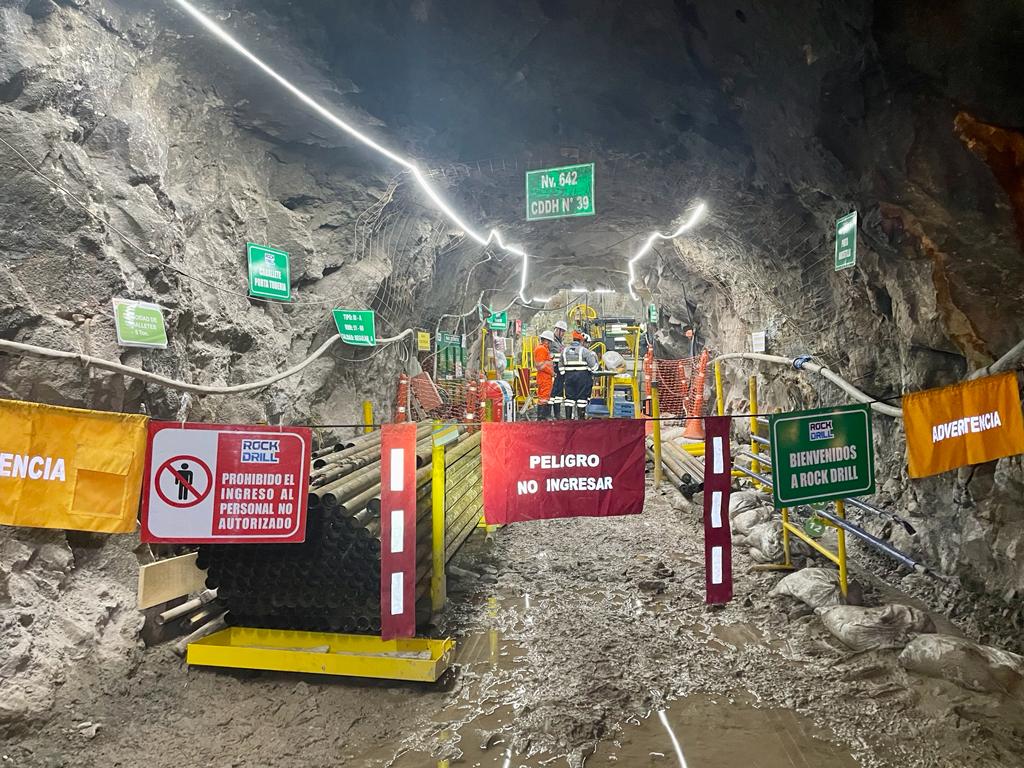 TORONTO, CANADA, Wednesday, September 27, 2023 – Silver Mountain Resources Inc. ("Silver Mountain" or "the Company") (TSXV: AGMR; OTCQB: AGMRF) is pleased to announce the discovery of the Natividad vein, a new copper rich vein at its 100% owned Reliquias mine, central Peru. Results from three of the initial four drill holes completed at Natividad have been received, all part of Phase 2 of the Company´s 2023 infill and resource expansion program. Drilling has also hit very high gold and silver grades near the Sacasipuedes vein, within a mineralized breccia body with strong argillic alteration.
Alvaro Espinoza, CEO of Silver Mountain, stated, "It is very exciting to have discovered a new mineralized vein, which has been named by our technical team as Natividad (or "NAT"). It is early days still, and the high grade copper values and true thickness observed augur well for its possible incorporation into a future mine plan. Our geologists are adapting the program to further test this structure along strike and at depth, and we will provide results as we receive them. Discovering a new vein in a historic district such as Reliquias proves once again that this project not only has a solid resource base on which to prepare a mine plan to re-start operations, but also has significant exploration upside to grow it further."
Mr Espinoza continued, "The extremely high silver and gold grades found above the main Sacasipuedes vein is also exciting as it proves, once again, that bonanza type grades exist outside of the current mineral resource boundaries. We look forward to test the continuity of this new high grade hit in our ongoing underground drill program."
Phase 2 of the 2023 drill program consists of 12,500 metres of NQ and HQ drilling aimed at infilling and growing the Company´s current mineral resource estimate (see news release dated April 12th, 2023 ). So far, drilling crews have completed approximately 7,600 metres of this program with two underground rigs, and the Company has received results from 18 drill holes (see also news releases dated July 19th and August 16th, 2023).
Discussion of 2023 Drilling Results
The Company has so far completed 22 drill holes on the Sacasipuedes and Perseguida vein systems from three underground drill platforms, two from Sacasipuedes and one from Perseguida. The Natividad discovery was made through drilling originally aimed at the Sacasipuedes vein, the results of which are also included in this release. Details on the location of the underground drill platforms and drill traces are found in Figure 1. Table 1 also shows a summary of the results announced in this news release.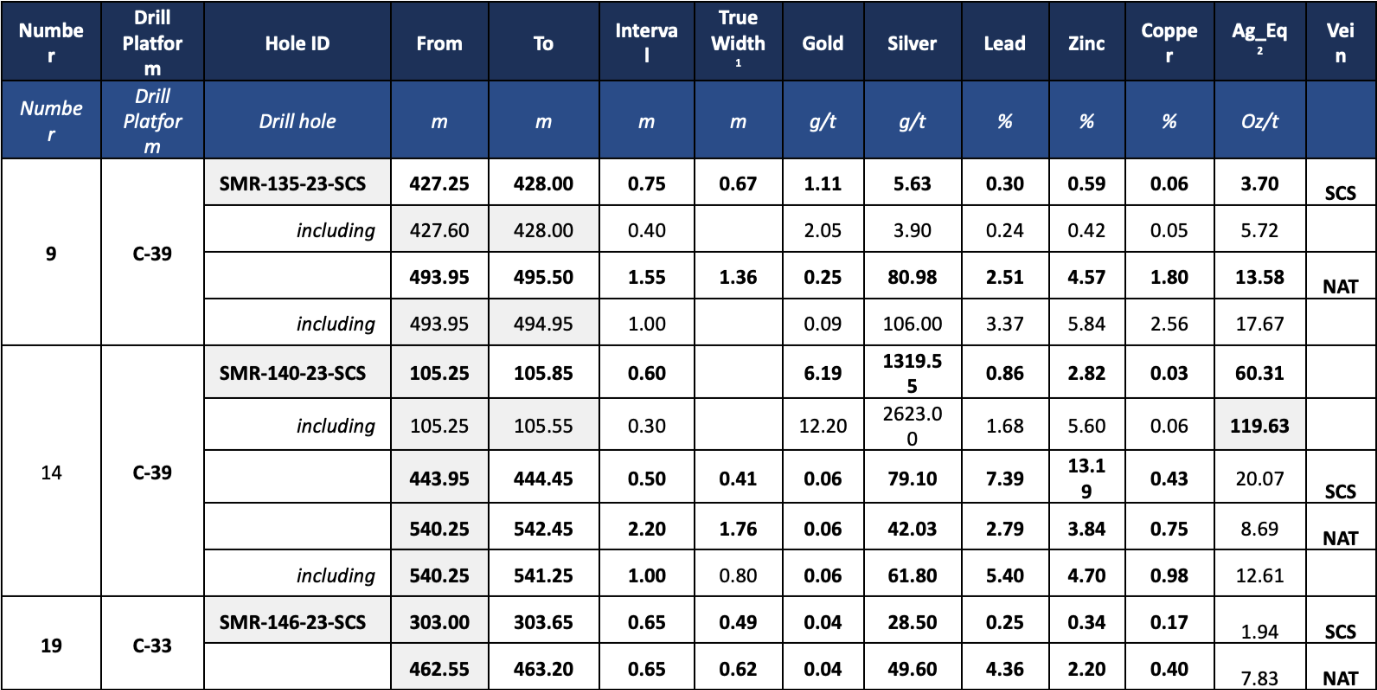 The Natividad vein is a newly identified mineralized structure found up to 100 metres below the Sacasipuedes vein ("SCS"). Company geologists believe that Natividad´s strike is oblique to the SCS vein, likely subparallel to the Matacaballo vein, and with a northerly dip. The mineralization is similar to the other veins in Reliquias, but with significantly higher quantities of chalcopyrite resulting in much higher grade copper grades than observed elsewhere. Company geologists interpret this style of mineralization as a separate event to the other veins drilled so far at Reliquias, suggesting that this deposit hosts a long-lived and multi-phase mineralization system. The Natividad vein has now been identified in four drill holes, spaced up to approximately 85 metres apart, and further drilling along strike and at depth is planned. Drilling has so far tested approximately 150 metres of strike length of Natividad, and it remains open laterally and vertically. Results from three drill holes have been received and are shown in Figure 2, a longitudinal section of the Natividad vein with the four completed drill holes.
Before hitting the Natividad vein, drill hole SMS-140-23-SCS intersected very high grade silver-gold at a shallow depth and high grade zinc-lead mineralization on the Sacasipuedes ("SCS"). The shallower precious metal mineralization is hosted in an argillically altered breccia with disseminated sulfides (see Figure 3), yielding some of the highest grade silver-gold grades seen so far at Reliquias, with a silver equivalent grade of approximately 120 oz/t AgEq. Company geologists are currently working on the interpretation of this style of mineralization. Further drilling will be needed to determine if this breccia is linked to the the Sacasipuedes vein system, or if it represents a new style of mineralization. The main Sacasipuedes intercept sits approximately 500 metres to the southeast of the outer limit of the current mineral resource, and below the lowest levels of the Reliquias mine historical workings. The SCS vein intercept of 0.50 metres with a combined Pb+Zn grade of 20.58%, is one the highest grade polymetallic results found to date. Further drilling is planned to test the lateral and down dip extensions of this intercept. Figure 4 shows a longitudinal section of the SCS vein with the location of this drill hole.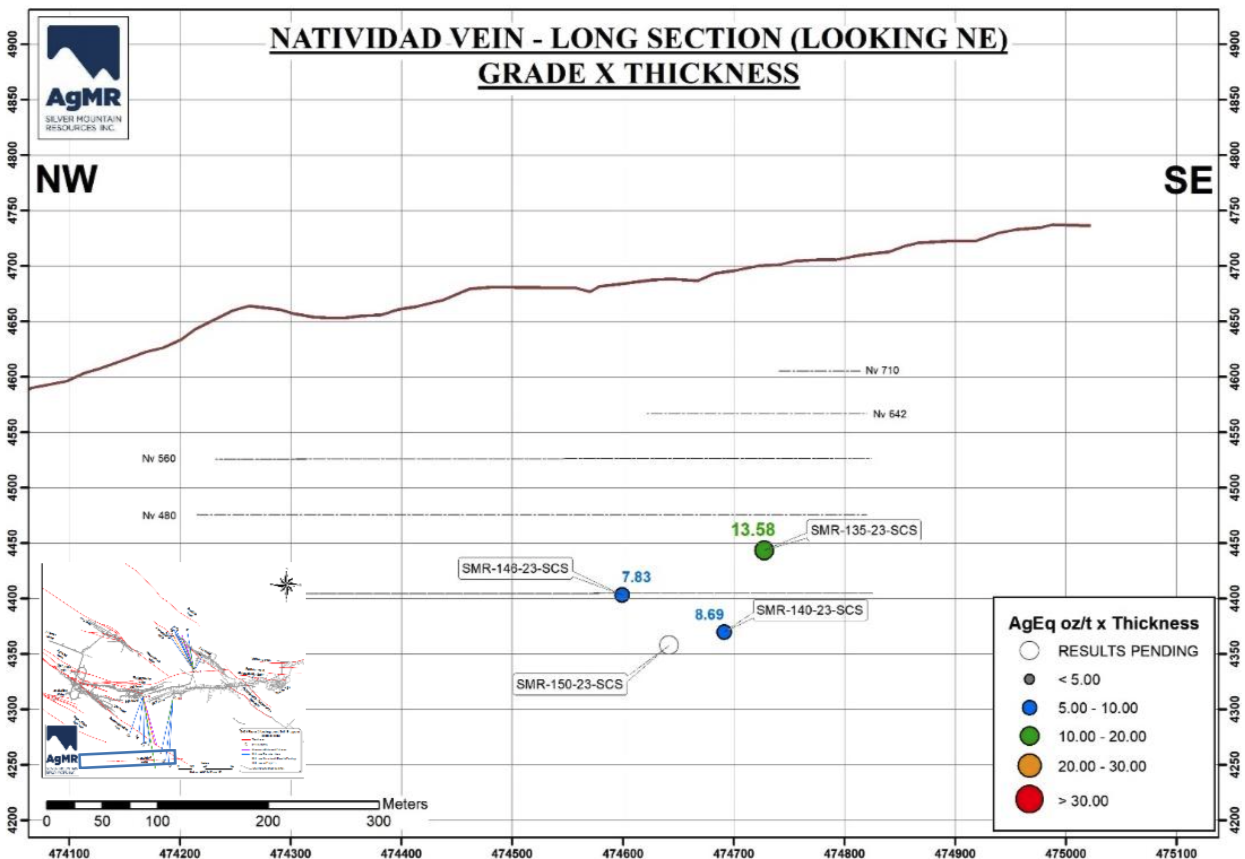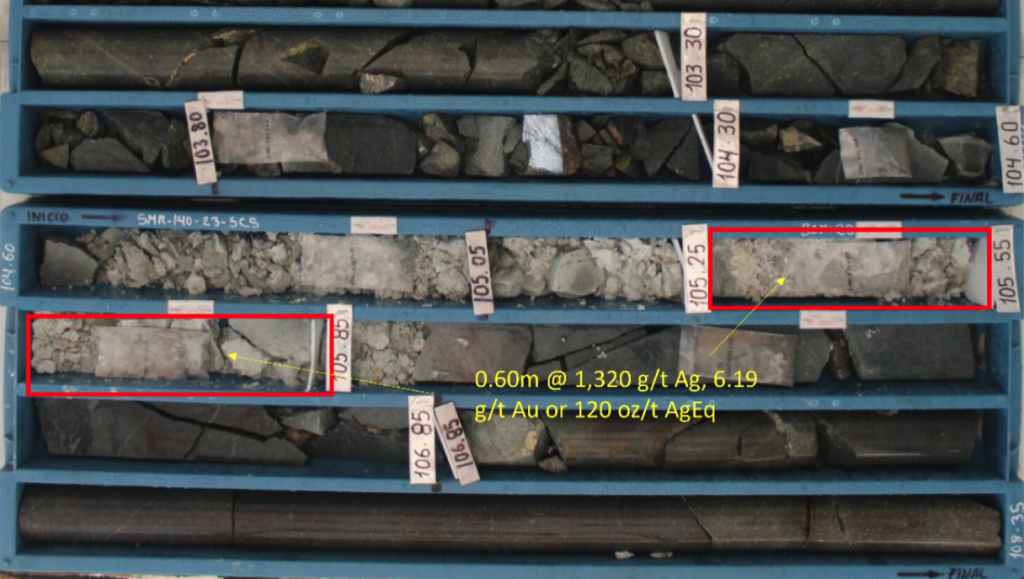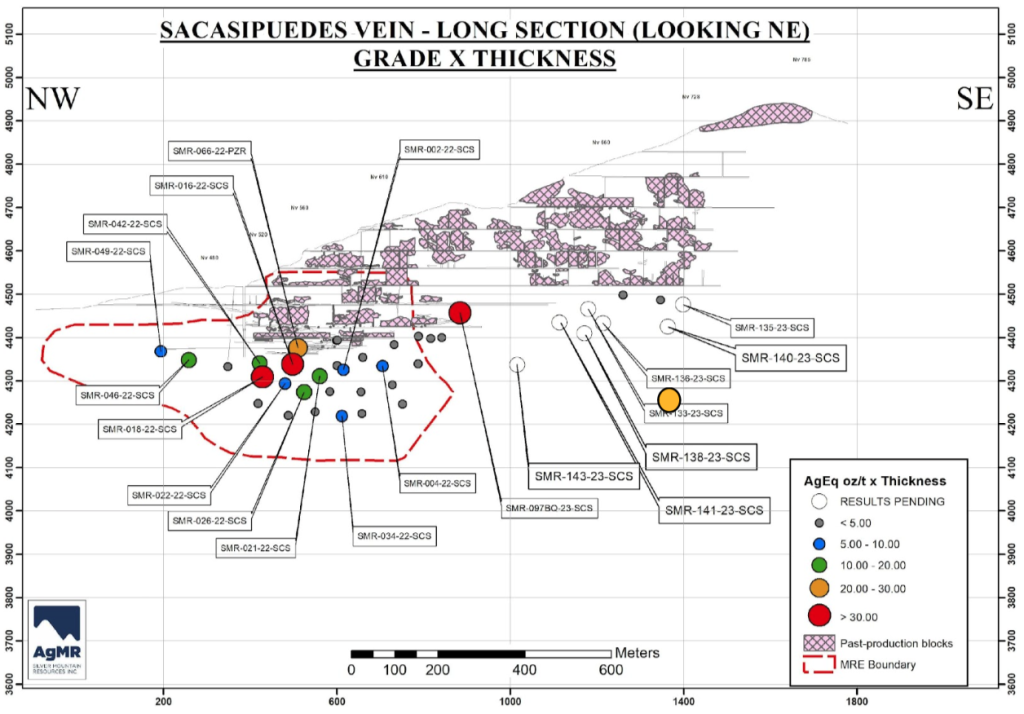 The 2023 drill program consists of two phases: an initial 3,500 metre phase using BQ diameter core (now completed); and a second 12,500 meter phase using NQ and HQ diameter core. Full results from the BQ diameter drilling have now been announced (see also March 29th and July 19th news release at  https://agmr.ca/news/ ). The second phase of infill drilling started in June 2023 and continues with 3 rigs working in the upper levels of the MTC (Matacaballo), MTS (Meteysaca), PER (Perseguida), and SCS (Sacasipuedes) vein systems, where high grade historical resource blocks remain outside of the current resource estimate. The Company plans to incorporate these high-grade blocks in future resource estimates. Results will be announced as they become available.
On Behalf of the Board of Directors of Silver Mountain Resources Inc.
Alvaro Espinoza, Chief Executive Officer 
Qualified Person
Antonio Cruz Bermudez, , P. Geo.  Registered Member MAIG is an independent consultant of the Company and the Qualified Person (within the meaning of NI 43-101) responsible for the MRE, has reviewed and approved the scientific and technical information contained in this news release.
About Silver Mountain 
Silver Mountain Resources Inc. is a silver explorer and mine developer planning to restart production at the Reliquias underground mine and currently exploring its 100% owned Castrovirreyna Project, consisting of over 60,000 hectares of highly prospective mineral claims and concessions located in the Huancavelica Region, central Peru. For additional information regarding the Castrovirreyna Project, please refer to the Company's technical report, titled NI 43-101 Technical Report Mineral Resource Estimate for the Reliquias Mine, Huancavelica- Peru, dated March 27, 2023, effective date March 18, 2023, available at https://sedar.com.
For further information about our drill program, including cross sections of the main veins with drill hole locations, please refer to our corporate presentation, available on our website at www.agmr.ca
For Further Information Contact:
Alvaro Espinoza
Chief Executive Officer
Silver Mountain Resources Inc
82 Richmond Street East
Toronto, ON M5C 1P1
+51 954 475 319
Neither TSX Venture Exchange nor its Regulation Services Provider (as that term is defined in policies of the TSX Venture Exchange) accepts responsibility for the adequacy or accuracy of this release.
Sampling, QA/QC, and Analytical Procedures
Silver Mountain follows systematic and rigorous sampling and analytical protocols which meet industry standards. These protocols are summarized below. 
All drill holes are diamond core holes with BQ, HQ or NQ core diameters. Drill core is collected at the underground drill site where recovery measurements are taken before the core is transported by truck to the core logging facility at the Caudalosa Grande mine camp, where it is photographed and geologically logged. The core is then cut in half with a diamond saw blade with half the sample retained in the core box for future reference and the other half placed into a pre-labelled plastic bag, sealed with a plastic zip tie, and identified with a unique sample number. The core is typically sampled over a 1 – 2 metre sample interval unless the geologist determines the presence of an important geological contact. The bagged samples are then stored in a secure area pending shipment to a certified laboratory sample preparation facility. 
Rock channel samples were collected with an electric percussion hammer and do not exceed 1.0 m in length. Channels are broken at obvious geologic boundaries to correctly separate rock types and mineralization styles. The sample bags were sealed with a plastic zip tie and identified with a unique sample number, pending shipment to a certified laboratory sample preparation facility. 
Samples are sent by batch to the ALS laboratory in Lima for assay. Silver Mountain independently inserts certified control standards, fine and coarse blanks, and duplicates into the sample stream to monitor data quality. These standards are inserted "blindly" to the laboratory in the sample sequence prior to departure from the core storage facilities. At the laboratory, samples are dried, crushed, and pulverized and then analyzed using a fire assay-AA finish analysis for gold and a full multi-acid digestion with ICP-AES analysis for other elements. Samples with results that exceed maximum detection values for the main elements of interest (Ag, Zn, Pb, Cu) are re-analyzed using precise ore-grade ICP analytical techniques, while high gold values are re-analyzed by fire assay with a gravimetric finish.
Forward Looking Statements 
This news release contains forward-looking statements and forward-looking information within the meaning of Canadian securities legislation (collectively, "forward-looking statements") that relate to Silver Mountain's current expectations and views of future events. Any statements that express, or involve discussions as to, expectations, beliefs, plans, objectives, assumptions or future events or performance (often, but not always, through the use of words or phrases such as "will likely result", "are expected to", "expects", "will continue", "is anticipated", "anticipates", "believes", "estimated", "intends", "plans", "forecast", "projection", "strategy", "objective" and "outlook") are not historical facts and may be forward-looking statements and may involve estimates, assumptions and uncertainties which could cause actual results or outcomes to differ materially from those expressed in such forward-looking statements. No assurance can be given that these expectations will prove to be correct and such forward-looking statements included in this news release should not be unduly relied upon. These statements speak only as of the date of this news release.

Forward-looking statements are based on a number of assumptions and are subject to a number of risks and uncertainties, many of which are beyond Silver Mountain's control, which could cause actual results and events to differ materially from those that are disclosed in or implied by such forward-looking statements. Such risks and uncertainties include, but are not limited to, the factors set forth under "Caution Regarding Forward-Looking Statements" and "Risk Factors" in the Company's Annual Information Form dated August 14, 2023, and other disclosure documents available on the Company's profile on SEDAR+ at www.sedarplus.ca. Silver Mountain undertakes no obligation to update or revise any forward-looking statements, whether as a result of new information, future events or otherwise, except as may be required by law. New factors emerge from time to time, and it is not possible for Silver Mountain to predict all of them or assess the impact of each such factor or the extent to which any factor, or combination of factors, may cause results to differ materially from those contained in any forward-looking statement. Any forward-looking statements contained in this news release are expressly qualified in their entirety by this cautionary statement.