SILVER MOUNTAIN CONTINUES TO REPORT HIGH GRADE SILVER RESULTS FROM ITS UNDERGROUND CHANNEL SAMPLING PROGRAM AT THE RELIQUIAS MINE, PERU
NOT FOR DISTRIBUTION TO U.S. NEWSWIRE SERVICES OR DISSEMINATION IN OR INTO THE UNITED STATES
Key Highlights – Channel sampling at Reliquias – weighted averages
MTC vein (Level 520): 130m with average vein width of 0.73m @ 553 g/t Ag, 1.27% Pb, 1.37 % Zn, 0.23 % Cu and 0.83 g/t Au 
PAS vein (Level 710): 84m with average vein width of 0.86m @ 214 g/t Ag, 0.78% Pb, 1.56% Zn, 0.06% Cu and 1.51 g/t Au 
BEA vein (Level 470): 23m with average vein width of 0.37m @ 727 g/t Ag, 1.35% Pb, 1.21% Zn, 0.24% Cu and 0.33 g/t Au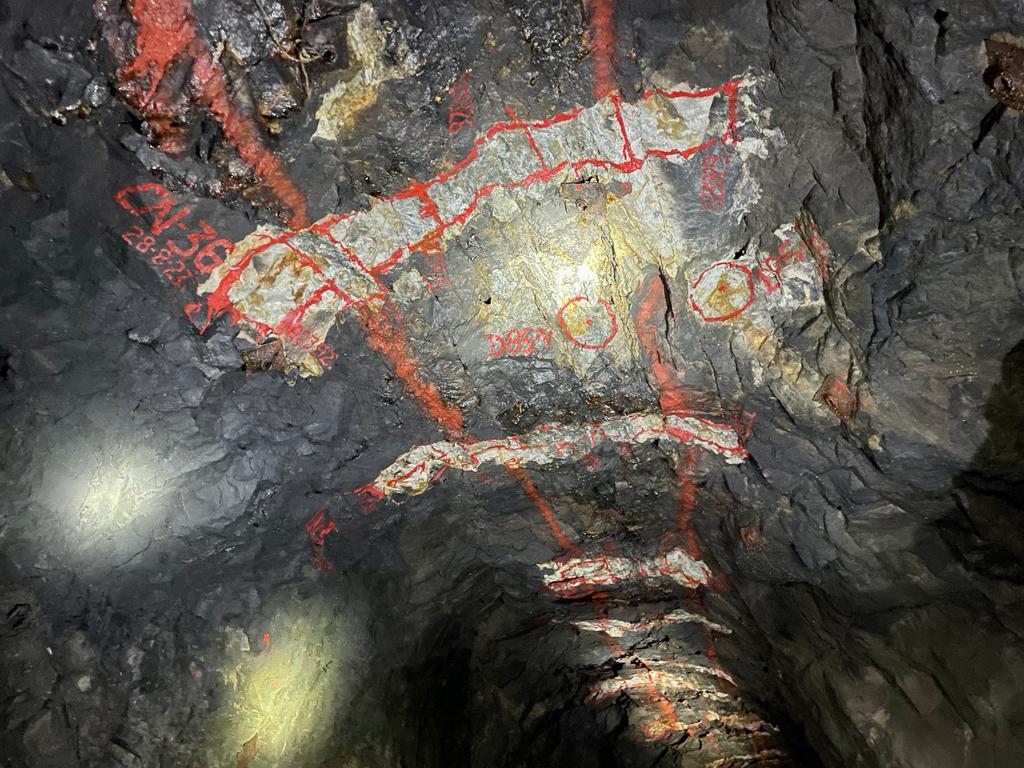 TORONTO, CANADA, Tuesday, October 17, 2023 – Silver Mountain Resources Inc. ("Silver Mountain" or "the Company") (TSXV: AGMR; OTCQB: AGMRF) is pleased to announce that it has received results from underground channel sampling carried out between June and August 2023, part of its ongoing mine rehabilitation program at its 100% owned Reliquias mine, central Peru.

The Company's crews have continued to systematically sample the underground workings as part of the preparation work needed to restart operations at Reliquias in the future. A total of 3,499 samples were collected from the Sorpresa ("SOR"), Matacaballo ("MTC"), Perseguida ("PER"), Meteysaca ("MTS"), Pozo Rico ("PZR"), Beatita ("BEA"), Pasteur ("PAS") and Vulcano ("VUL") veins. All samples were collected perpendicular to the veins using portable rock saws.
Alvaro Espinoza, President and CEO of Silver Mountain, said, "Our crews have continued to work at full speed rehabilitating and sampling the workings at the Reliquias Mine. Having readily accessible tunnels and crosscuts will allow us not only to potentially restart mine production quickly, but also provide us with sufficient representative data points to increase the confidence in our resource."
Mr. Espinoza continued, "As Silver Mountain's current exploration phase nears conclusion, we consistenly see excellent silver grades in known and new veins. Results from the Beatita vein, in particular, are very encouraging, as they confirm that there are multiple parallel NW-SE vein systems with grades similar to those found at Perseguida. Reliquias continues to deliver, and we optimistically look forward to the culmination of the current highly successful exploration phase and the preparation of an updated mineral resource estimate and publishing a new technical report".
Channel Sampling Results
Silver Mountain geologists collected 3,499 channel samples from 1,046 channels between June and August 2023, as part of the Company´s plan to systematically sample the veins exposed in the Reliquias mine workings. Table 1 and Table 2 show the distribution of samples between the veins and vein systems, and the compiled weighted results respectively and Figure 1 shows the channel sampling coverage to date.
Channel sampling along an 84.40 metre long segment of the easternmost part of the Pasteur ("PAS") vein, on level 710 and near the intersection with the Beatita vein ("BEA"), yielded a weighted average of 13.80 oz/t AgEq, with an average vein thickness of 0.86 metres. Furthermore, channel sampling 700 metres to the northwest along the BEA vein, on level 470, highlighted a 23 metre long segment with an average thickness of 0.37 metres grading 26.81 oz/t AgEq, indicating that high grade silver extends both laterally and at depth. The Beatita vein is a 2.3 km long northwest-southwest trending vein, parallel to the Perseguida ("PER") vein system, where some of the highest grades seen at Reliquias are hosted and it intersects the Pasteur vein system near the latter´s easternmost sxtension. The BEA vein is not included in the current mineral resource estimate. Figure 2 shows the results from the channel sampling in level 470 of the BEA vein. Figure 3 shows the results from level 710 of the PAS and BEA veins.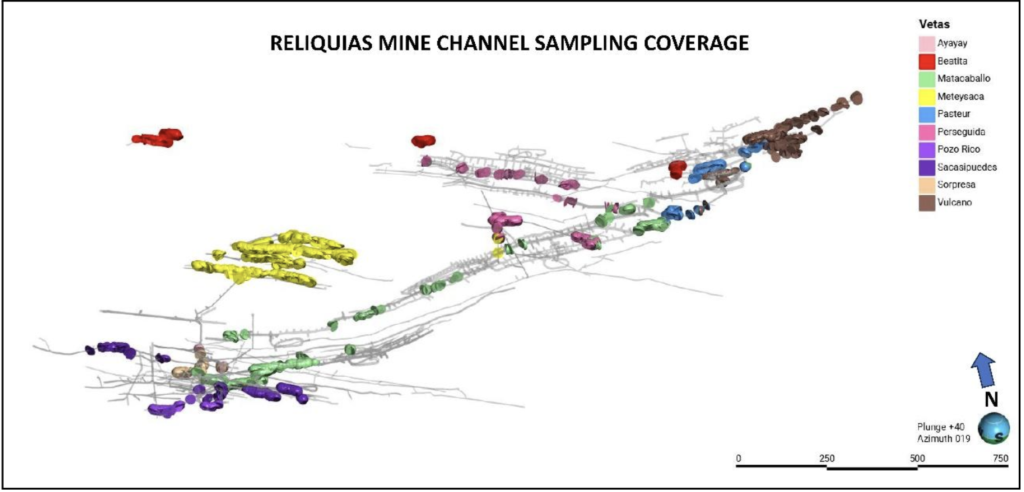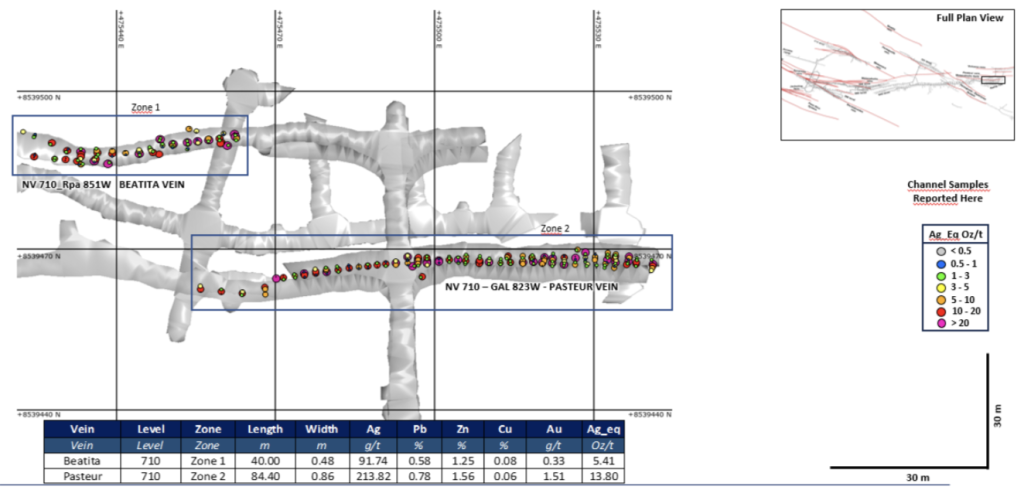 The Meteysaca ("MYS") vein system continues to show high grade silver and base metal grades. Results from a 130 metre long segment along level 520 from the central part of this NW-SE trending vein shows an average vein width of 0.73 metres with grades of 553 g/t Ag, 1.27% Pb, 1.37% Zn, 0.23% Cu and 0.85 g/t Au (22.51 oz/t AgEq). Figure 4 shows the sampling from level 520 of the MYS vein reported here.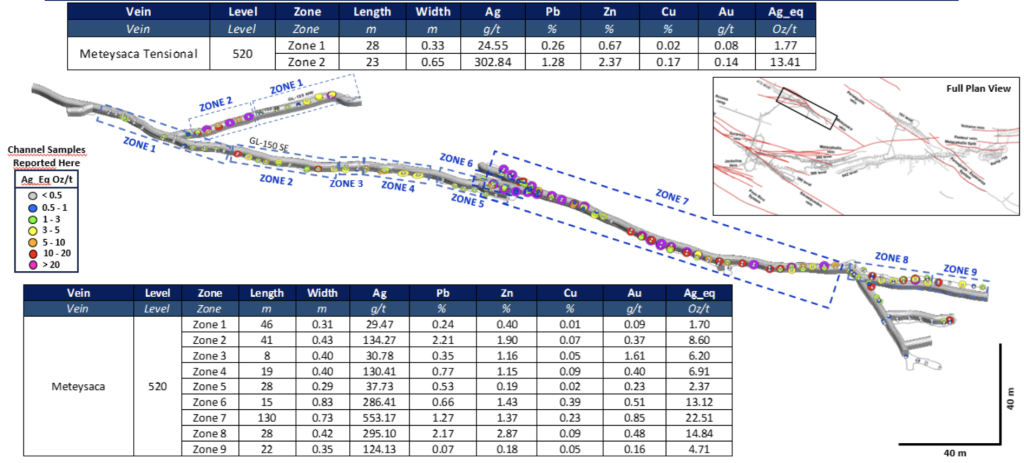 Sampling elsewhere along a 30 metre segment of the Pasteur vein system ("PAS") on level 642 shows an average vein width of 0.78m with average grade of 10.69 oz/t AgEq. Figure 5 shows the location of this sampling interval.