SILVER MOUNTAIN ANNOUNCES 2023 EXPLORATION PROGRAM AND OUTLOOK
NOT FOR DISTRIBUTION TO U.S. NEWSWIRE SERVICES OR DISSEMINATION IN OR INTO THE UNITED STATES
Toronto, Ontario, March 21, 2023 – Silver Mountain Resources Inc. TSXV:AGMR | OTCQB:AGMRF | BVL:AGMR ("Silver Mountain", "AGMR" or the "Company") is pleased to provide its outlook for 2023 in addition to a brief review of 2022.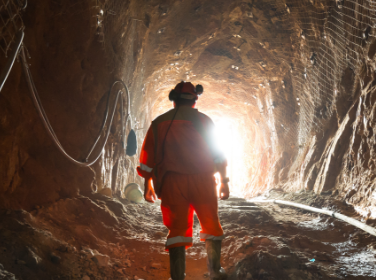 2022 Highlights
Completion of a 72-hole underground drill program at the Reliquias mine for a total of 16,955.3 m. The objective of this campaign was to validate historical resources within the most promising structures, primarily the Matacaballo, Sacasipuedes, and Meteysaca veins (typical cross sections of the principal veins with assay results are shown in Fig.1 to 3). The Matacaballo vein was investigated over 650 m along strike and drilled to a depth of 130 m below the currently lowest mine level. The Sacasipuedes structure was shown to extent at least 160 m below the lowest existing exploitation drift, while drilling tested the vein over a horizontal distance of 480 m. At the Meteysaca vein, drilling confirmed silver-rich mineralization for at least another 165 m to depth below the lowest existing mine level and over 425 m along strike. Several vein splays were identified during drilling and incorporated into the geological model. The mineralization at all principal veins in the Reliquias mine remains open at depth and along strike.

The last eleven bore holes of the 2022 program were aimed at exploring additional structures with limited historic exploitation and included step-out drill holes >400 m from previous drill sites (press release – March 8, 2023). Promising intercepts were identified in the Perseguida and Pozo Rico vein systems, which warrant follow-up drilling during the 2023 campaign. 

Facilitated by the rehabilitation of 5,925 m of underground workings, an extensive underground mapping and sampling program in the historic mine workings was carried out to update the 3D geological – structural model for future mineral resource estimations. 2400 channel samples were collected from existing and rehabilitated workings at Reliquias. The detailed sampling identified various zones of high-grade mineralization (press releases, September 8, October 4, and December 7, 2022) that will be incorporated into the initial mine development work programmed to start in Q3 2023.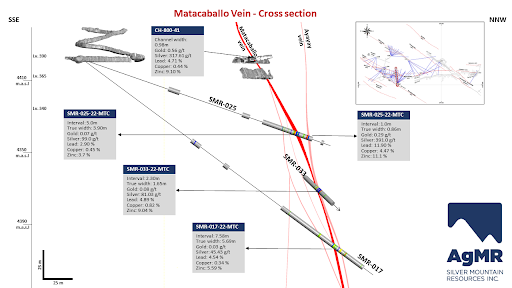 Purchase of a 100% interest in the Lira de Plata project from Pan American Silver (news release, November 3, 2022), securing close to 800 ha of highly prospective ground in the vicinity of Reliquias and consolidating the Company's position in the Castrovirreyna district. 

Started a brownfield exploration program around the Reliquias mine, including reconnaissance mapping and sampling of the newly acquired Lira de Plata claims, as well as the Pozo Rico, Anabel, and Dollar prospects adjacent to Reliquias. Several prospective zones with high-grade Ag-Pb-Zn-Cu-Au mineralization on surface were recognized, but require follow-up work to determine the most promising drill targets.

Identification of a concealed porphyry copper target at the Yahuarcocha and Guanajato zones, in the central part of the Reliquias claim block (press release – February 23, 2023). Geological and geochemical characteristics as well as alteration features indicate the presence of a porphyry copper system at depth. A 7×3 km-sized, untested lithocap with advanced argillic alteration at Poetas-Carmela offers further exploration potential.

At the Dorita concession block, 25 km to the northwest of Reliquias, more than 14 km

2

were mapped at 1:2000 scale, covering the Dorita, Pucasora, and Huancarpusca targets. Extensive zones of intermediate sulphidation-style mineralization with highly elevated gold and silver anomalies were identified at the Dorita Mine and Dorita North zones (press release – July 7, 2022). At Pucasora, a high-sulphidation epithermal Au-Ag target was recognized over an area of 2.0 x 1.2 km (press release – September 14, 2022). 

Environmental Permitting: Obtained archaeological permits (CIRA) for the entire Dorita claim block, a pre-requisite for achieving the approval of a surface drilling permit. 

A National Instrument 43-101 – Standards of Disclosure for Mineral Projects ("NI 43-101") compliant technical report on the El Milagro project was finalized, declaring 873,250 t @ 2.01 oz/t Ag, 2.78% Zn, and 1.1% Pb in historic resources in the inferred category. Please refer to the Company's technical report entitled "NI 43-101 Technical Report for El Milagro Project, Huancavelica and Ayacucho Regions, Peru", dated October 17, 2022 and available on the Company's profile on

www.sedar.com

.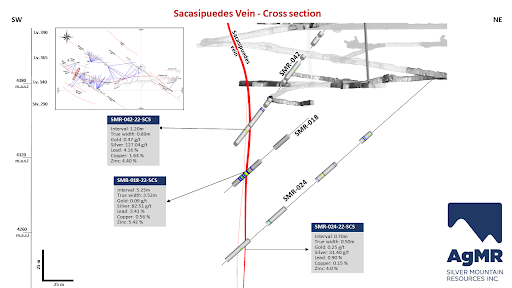 Outlook 2023
Based on the information compiled during the successful 2022 exploration campaign, an initial NI 43-101 compliant resource estimate of the Reliquias deposit is expected to be published in early Q2 2023.
In 2023, exploration efforts will be focused on expanding the identified resource base, to be incorporated into a subsequent resource update as part of the planned Preliminary Economic Analysis ("PEA"). This includes at least 14,500 m of diamond drilling, divided into:

Underground drilling program with a total of 8,000 m of HQ/NQ diameter holes, to identify near-resource additions along strike within the principal veins and to add mineral resources in other vein structures such as Pozo Rico, Perseguida, Escondida Pasteur, and Vulcano.
Underground drilling campaign of approximately 3,500 m, utilizing smaller rigs that are able to operate in sublevels and other narrow workings. This 60-hole drill program with BQ and XRP diameter core is targeting subparallel vein splays and tensional structures, as well as providing infill drilling in certain areas.
Once the respective permits have been granted, a 3,000 m surface drill program will be carried out. It has the objective of testing the Pasteur, Vulcano, and Matacaballo veins in the upper part of the deposit, to evaluate the potential for near-surface resources amenable to open-pit mining.

Together with ongoing mine rehabilitation and development, the detailed underground mapping and channel sampling program will continue. It is planned to incorporate newly rehabilitated levels and additional vein structures, to add further mineral resources.
The development of the principal underground infrastructure such as haulage levels, drifts, and access ramps is programmed to commence in Q2 2023. In H2 2023, this will be followed by starting to prepare the blocks of economically viable mineralization for future exploitation.
The refurbishment of the existing plant at Caudalosa will continue during 2023. Building on initial metallurgical test-work started in 2022, additional metallurgical optimization studies are planned.
Further studies planned for 2023 include a hydrological evaluation of the Reliquias area, a geotechnical study of the Reliquias mine, an update of existing studies on the stability of the tailings dams, and environmental baseline studies.
All the studies mentioned above will be incorporated into a PEA, programmed for Q3 2023. The PEA will include an update of the applicable resource estimate, determination of economically viable mineralization, mine plan and design.
The Company intends to expand the brownfield exploration program around the large, underexplored Reliquias and Caudalosa concession block. This includes advancing the highly prospective Yahuarcocha – Guanajato target.
Alfredo Bazo, President and CEO, commented: "In 2022, our team set itself ambitious milestones to advance the Company´s projects, at both the Reliquias and Dorita claim blocks. The team´s consistent efforts to deliver on our goals show our commitment to our shareholders and stakeholders. We are convinced that with the planned exploration program, the potential resources at the Reliquias deposit will continue to grow, facilitating a mine start-up envisioned for H2 2024."
Silver Mountain Announces Amended Advertising Agreement
The Company announces that, further to its previous press release dated September 12, 2022, the Company has entered into an amended and restated advertising agreement dated March 20, 2023 (the "Agreement") with Gold Standard Media, LLC ("Gold Standard"), amending and restating the Company's prior advertising agreement with Gold Standard dated September 12, 2022 (the "Original Agreement"). Pursuant to the Agreement, Gold Standard has agreed to provide the Company with certain additional advertising services (the "Additional Services"). In consideration for the Additional Services, the Company has agreed to pay an aggregate fee of USD$200,000 (the "Additional Fee"), which Additional Fee shall be payable in six (6) installments of USD$33,333 (with the sixth and final installment in the amount of USD$33,335), payable weekly during each of the first six (6) weeks following the date of the Agreement. Aside from the provision of the Additional Services and the payment of the Additional Fee, the terms and conditions of the Original Agreement remain unchanged. The provision of the Additional Services and payment of the Additional Fee are subject to the approval of the TSX Venture Exchange.
The Additional Services are to be provided by Gold Standard together with its affiliates, Future Money Trends LLC, Wealth Research Group LLC and Portfolio Wealth Global LLC (collectively, the "Service Providers").  The individual providing the Additional Services on behalf of the Service Providers is Kenneth Ameduri located at 723 W. University Ave. Ste 110-283, Georgetown TX 78626. Mr. Ameduri can be reached by telephone at (626) 733-3678 or by email at Kennethameduri@gmail.com. To the knowledge of the Company, the Service Providers together with certain affiliates or entities controlled by Mr. Ameduri currently own 750,000 class A common shares of the Company.
On Behalf of the Board of Directors of Silver Mountain Resources Inc.
Alfredo Bazo, Chief Executive Officer and Director
Qualified Person
The scientific and technical information contained in this news release has been reviewed and approved by Antonio Cruz, an independent consultant of the Company and a Qualified Person within the meaning of NI 43-101. 
About Silver Mountain 
Silver Mountain Resources Inc. is a silver explorer and mine developer planning to restart production at the Reliquias underground mine and undertake exploration activities at its prospective silver camps at the Castrovirreyna Project in Huancavelica, Peru.
For additional information in respect of the Castrovirreyna Project, please refer to the Company's technical report, titled National Instrument 43-101 Technical Report—Castrovirreyna Project, Peru, dated October 6, 2021, amended November 18, 2021, effective date August 17, 2021, available at https://sedar.com.
For further information about our drill program, including cross sections of the main veins with drill hole locations, please refer to our corporate presentation, available on our website at www.agmr.ca
Silver Mountain's subsidiary Sociedad Minera Reliquias S.A.C. owns 100% of its concessions and holds more than 39,000 hectares in the district of Castrovirreyna, Huancavelica, Peru.
For Further Information Contact:
Alfredo Bazo                                                                      Jean Pierre Fort
President, CEO & Director                                             Chief Financial Officer
abazo@agmr.ca                                                                jpfort@agmr.ca 
Silver Mountain Resources Inc
82 Richmond Street East
Toronto, ON M5C 1P1
+647-2624017
www.agmr.ca
Neither TSX Venture Exchange nor its Regulation Services Provider (as that term is defined in policies of the TSX Venture Exchange) accepts responsibility for the adequacy or accuracy of this release.
Forward Looking Statements 
This news release contains forward-looking statements and forward-looking information within the meaning of Canadian securities legislation (collectively, "forward-looking statements") that relate to Silver Mountain's current expectations and views of future events. Any statements that express, or involve discussions as to, expectations, beliefs, plans, objectives, assumptions or future events or performance (often, but not always, through the use of words or phrases such as "will likely result", "are expected to", "expects", "will continue", "is anticipated", "anticipates", "believes", "estimated", "intends", "plans", "forecast", "projection", "strategy", "objective" and "outlook") are not historical facts and may be forward-looking statements and may involve estimates, assumptions and uncertainties which could cause actual results or outcomes to differ materially from those expressed in such forward-looking statements. No assurance can be given that these expectations will prove to be correct and such forward-looking statements included in this news release should not be unduly relied upon. These statements speak only as of the date of this news release. 
Forward-looking statements are based on a number of assumptions and are subject to a number of risks and uncertainties, many of which are beyond Silver Mountain's control, which could cause actual results and events to differ materially from those that are disclosed in or implied by such forward-looking statements. Such risks and uncertainties include, but are not limited to, the factors set forth under "Forward-Looking Statements" and "Risk Factors" in the Company's final prospectus dated January 26, 2022, and other disclosure documents available on the Company's profile at www.sedar.com. Silver Mountain undertakes no obligation to update or revise any forward-looking statements, whether as a result of new information, future events or otherwise, except as may be required by law. New factors emerge from time to time, and it is not possible for Silver Mountain to predict all of them or assess the impact of each such factor or the extent to which any factor, or combination of factors, may cause results to differ materially from those contained in any forward-looking statement. Any forward-looking statements contained in this news release are expressly qualified in their entirety by this cautionary statement.
Neither the TSXV nor its Regulation Services Provider (as that term is defined in the policies of the TSXV) accepts responsibility for the adequacy or accuracy of this news release.